Jack Dorsey, a longtime supporter of Bitcoin, has found himself embroiled in a Twitter argument with several experts in the cryptocurrency space after he replied "yes" to a question about whether Ether was security.
Udi Wertheimer, a Bitcoin Ordinals programmer at Taproot Wizards, was alerted to the remark and suggested Dorsey was a "clown" in a tweet on June 6.
Dorsey tweeted in response, "ETH is not a security? Teach me wizard," that provoked Wertheimer to upload a five-year-old video of US Securities Exchange Commission Chairman Gary Gensler saying that ETH was now "sufficiently decentralised" and wasn't a security.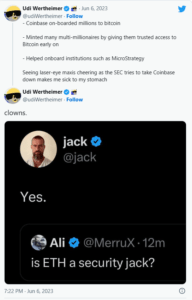 Meanwhile, in response to Wertheimer's remark, Gabor Gurbacs, a strategy consultant to stablecoin issuer Tether and investment management company VanEck, asserted that Ethereum's recent switch to proof-of-stake may have reactivated securities regulations.
The SEC filed complaints against digital currencies exchanges Binance and Coinbase on June 5 and 6 for reportedly providing tokens that were deemed to be unlicensed securities, which is why there has been an online spat.
Additionally, Dorsey tweeted and appeared to endorse a screenshot of a 2015 post by Coinbase CEO Brian Armstrong in which he called altcoins a "distraction" and suggested that Coinbase should "be concentrated" on Bitcoin instead.
As part of his ongoing advocacy for Bitcoin, Dorsey retweeted a video in which Bitcoin Lightning application Strike CEO, Jack Mallers, criticised Armstrong for prioritising altcoins over advancing Bitcoin and the Lightning Network.
140 Ethereum-based nonfungible tokens, also known as NFTs, were sold by the firm in 2021 when Dorsey was in command of Twitter, but he at that point opposed investing in Ether.
When he asserted that Ethereum solely wouldn't be able to challenge big tech in August 2021, Dorsey also underestimated the progress of the cryptocurrency.
Nostr is a decentralised "Twitter killer" network that incorporates Bitcoin Lightning-based remittances on the "Damus" platform. Dorsey just contributed cash and endorsed Nostr.