The SEC requested the court to halt Binance.US's assets on the previous night, one day after filing Binance with a lawsuit. Additionally, the SEC urged the judge to return clients of Binance.US's fiat and cryptocurrency holdings.
The non-US firms of the crypto exchange are not covered by the request for the freezing order; it only pertains to the Binance.US corporations. 
The order would also be applicable to numerous accounts maintained by Binance.US at other banks, including Axos Bank, Prime Trust, the long-gone Silvergate Bank, and others.
According to the SEC, Zhao is allegedly engaged in the illegal mixing of billions of dollars of client assets with Binance funds through two overseas companies, Sigma Chain and Merit Peak. According to SEC, the urgent restriction order was required.
Sec furher added, "due to the Defendants' long history of breaking the law and their blatant disrespect for American law, this will "stop the loss of available assets for any judgement." 
The SEC has charged Binance and Zhao on 13 different charges of deceiving shareholders, acting as an unlicensed broker-dealer and clearance house, as well as inappropriately combining assets in its case, which was filed earlier this week.
Binance.US tweeted a statement saying that "User assets are secure and safe and the exchange appears to be completely functional with withdrawals and deposits working as normal" soon after the SEC requested the restriction order.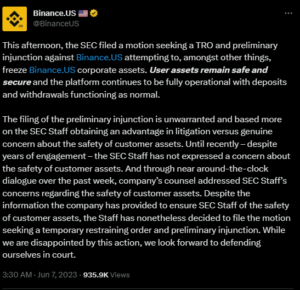 According to Binance US, the initial order request is needless and appears to be more related to the SEC Staff seeking an advantage in the legal procedure than it does really care about the security of consumer funds.
The exchange claimed that after years of involvement, the SEC Staff had not lately voiced any concerns regarding the security of customer funds. 
However, throughout the past week, the firm's legal department has been in close contact with the SEC Staff to express their worries about the security of consumer assets.
Binance claimed that despite giving evidence assuring the SEC Staff of the security of client assets, they nonetheless made the decision to submit a petition for an initial injunction and temporary freezing order. 
Binance continued ans said, "We are saddened by this move but are prepared to defend ourselves in court."