SEC from its complaint against cryptocurrency exchange Binance, the total amount of digital currencies that the US Securities and Exchange Commission has alleged to be a "security" has now increased to 61.
The 61 digital tokens that have been alleged as "security" are the result of years' worth of litigation by the SEC, which has defined which digital currencies it considers securities.
The SEC added 10 digital currencies to the category of securities in its most recent filing against Binance,which are – Solana, Cardano, Binance USD, BNB, Decentraland, Polygon, Sandbox, Cosmos, COTI and Axie Infiity.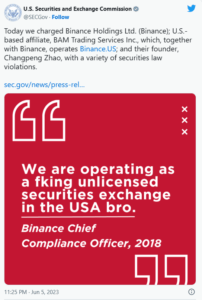 Other significant digital assets that the SEC has designated as securities include ALGO, Ripple XRP, LBRY's LBRY Credits (LBC) and Algorand when it accused Bittrex in April, naming it along with five other individuals.
When it accused Terraform Labs of fraud in February, the SEC combined cryptocurrencies into one category for the first time. Including Terra Classic USD (USTC), Mirror Protocol (MIR), Terra Luna Classic (LUNC) and an estimated 13 Mirrored Assets (mAssets) that sought to mimic the price of companies like Apple and Tesla, a total of 16 cryptocurrency assets were classified as securities.
Due to the SEC's disputed jurisdiction over the cryptocurrency industry, it currently covers a market worth over $100 billion, or around 10% of the $1.09 trillion global market value for cryptocurrencies.
Gary Gensler, the chairman of the SEC, has asserted that "everything other than Bitcoin" is a security that is subject to regulation by the organisation. About 25,500 virtual currencies are listed on the cryptocurrency data website CoinMarketCap.
These 48 cryptocurrency tokens have now been deemed securities by the SEC: Telegram's Gram (TON), LBRY Credits (LBC), OmiseGo (OMG), DerivaDAO (DDX), DASH (DASH), Algorand (Algo), Naga (NGC), Monolith (TKN), IHT Real Estate (IHT), The Sandbox (SAND), BitTorrent (BTT), Kromatica (KROM), DFX Finance (DFX), Cosmos (ATOM), Rally (RLY),  Paragon (PRG), XRP, Rari Governance Token (RGT), XYO Network (XYO), Polygon (MATIC), Liechtenstein Cryptoasset Exchange (LCX), Kin (KIN) Salt Lending (SALT), Beaxy Token (BXY), Power Ledger (POWR), DragonChain (DRGN), Tron (TRX), Terra USD (UST), Luna (LUNA), Mirror Protocol (MIR), Axie Infinity (AXS), Amp (AMP), Ducat (DUCAT), Locke (LOCKE), Hydro (HYDRO), BitConnect (BCC), Meta 1 Coin (META1), Filecoin (FIL), BNB (BNB), Binance USD (BUSD), Solana (SOL), Cardano (ADA), Mango (MNGO), EthereumMax (EMAX), Decentraland (MANA), COTI (COTI), and AirToken (AIR).
Additionally, the SEC determined that the following 13 Mirror Protocol mAssets qualify as securities, Mirrored ProShares VIX Short-Term Futures ETF (mVIXY), Mirrored iShares Silver Trust (mSLV), Mirrored iShares Gold Trust (mIAU), Mirrored Amazon.com, Inc. (mAMZN), Mirrored Twitter Inc. (mTWTR), Mirrored Tesla, Inc. (mTSLA), Mirrored Alphabet Inc. (mGOOGL), Mirrored Microsoft Corporation (mMSFT), Mirrored Invesco QQQ Trust (mQQQ), Mirrored Alibaba Group Holding Limited (mBABA), Mirrored United States Oil Fund, LP (mUSO), Mirrored Netflix, Inc. (mNFLX) and Mirrored Apple Inc. (mAAPL).
Read more: