Gemini, the Winklevoss-owned digital currency exchange, recently revealed that it has started the process of obtaining a crypto service licence for UAE consumers.
Gemini stated in an online article on May 31 that it was seeking to apply for the licence due to rising public interest in digital currencies and favourable interactions with UAE officials.
Additionally, co-CEOs of Gemini Cameron and Tyler Winklevoss stated Zaywa that the decision was driven by "hostility and a lack of clarity" around cryptocurrency legislation in the United States.
Gemini CEO Tyler Winklevoss informed the Abu Dhabi-based news site The National, "We've been really excited with our conversations here with the regulators."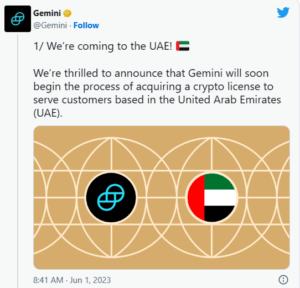 "There is an effort to establish the UAE as a home and centre for the cryptocurrency industry and, above all, to implement mindful legislation that links and safeguards users and a company's capacity for innovation."
The Winklevoss twins haven't made up their minds about where to set up the exchange's business, although they've hinted that Abu Dhabi and Dubai would be good options.
Gemini's Global State of Crypto Survey shows that more than 35% of respondents in the United Arab Emirates had bought cryptocurrency, compared to only 20% of respondents in the US.
In the UAE, almost 32% of non-owners stated that they planned to buy cryptocurrency in the coming year. 
Moreover, 33% of cryptocurrency owners in the UAE want to use their coins to make in-person purchases at physical stores, compared to just 19% of cryptocurrency owners worldwide.
Read more: