Gate.io saw a net outflow of $150 million over the last 24 hours, equivalent to around 10% of its net reserve assets, as a result of police investigating rumours in the community.
Gate said via Tweeter post that there are no withdrawal problems and that business is running smoothly as usual.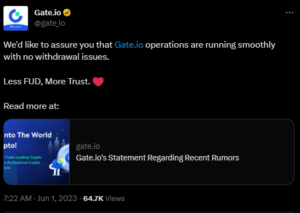 The cross-chain routing technology Multichain (MULTI) has been linked to multiple Twitter accounts alleging that the cryptocurrency trading platform Gate is facing liquidity issues.
Gate has disputed these claims. The cryptocurrency exchange stated that "the activities are running smoothly" and that it is concentrating on launching an associated trading platform named Gate in Hong Kong.HK
When blockchain analytics company Arkham Intelligence posted statistics showing significant MULTI inflows to Gate.io, rumours of Gate suffering insolvency concerns started to circulate. 
The blockchain analytics company claimed that the surge was associated with rumours that the protocol's team had "allegedly been detained in Shanghai."
As was previously reported, Multichain released a statement informing the public that its CEO was missing. It said that since only the CEO had access to the necessary servers, several of the routers for the protocol were no longer functional. 
Later that day, a few people on Twitter started sharing pictures of transactions that appeared to be sizable FTM transfers made to Gate.io by members of the Multichain team.
Rumours started spreading on Twitter that the cryptocurrency exchange was vulnerable to Multichain's meltdown and would soon see a bank run after a number of significant deposits of MULTI and Fantom to Gate.io.
According to etherscan data, Gate.io received more than $10 million in FTM on May 25–26 from an unidentified user. Nevertheless, the true identity of the account holder who transferred those monies could not be verified.
Read more: