Zunami, a decentralised finance protocol, recommended its customers not to purchase any of the stablecoins, Ether (zETH) or Zunami USD (UZD) after facing a hack on its "zStables" pools on Curve Finance. 
On August 13, Zunami stated on X (Twitter) that one of its stablecoin pools had been attacked, but added that collateral was still protected while it started looking into the expected exploit.   

PeckShield, a blockchain security company, co-related the vulnerability to a problem with price rigging and states that around $2.1 million was taken from Zumani's Curve Pool. Ironblocks, another blockchain security company, reached a similar conclusion.
On August 13 at 10:47 UTC, PeckShield was the first one to notice the Curve vulnerability and Zunami validated it roughly 20 minutes later.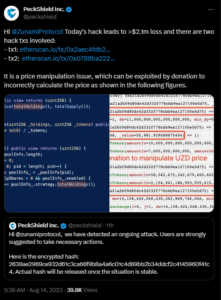 Zunami is a decentralised finance aggregator technology that enables customers to stake stablecoins for yield. Its biggest stable pools are located on the Curve. The Zunami USD stablecoin and Zunami Ether have both been affected by the hack.