According to a new report from the Bank of Canada, the normal Canadian people have no motive to use a CBDC (central bank digital currency), which could hinder its widespread acceptance.
In the staff discussion paper published on August 10, the central bank examined a fictitious scenario in which cash was essentially removed to determine what function a future CBDC may serve in assisting the underbanked.
Since Canadians don't encounter significant obstacles accessing financial services like debit and credit cards or bank accounts, it was discovered that the majority of people would have "weak incentives" to utilise one.
According to the survey, 90% of households in both urban and rural areas of Canada have access to high-speed internet and 98% of Canadian adults have a bank account. In addition, 87% of adults in Canada have a credit card.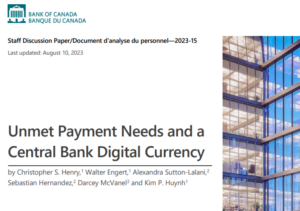 However, it discovered that replacing cash with digital currency will also reduce the number of payment methods available to tech-averse Canadians while making it impossible for those who depend on cash to perform the most common transactions.
A CBDC's projected low adoption rate would also make retailers less likely to be interested in adopting one, further reducing its utility.
The article instead proposed non-CBDC-related strategies that might help the underbanked more effectively, such as boosting the availability of low-cost bank accounts, enhancing internet accessibility, continuing to provide cash and strengthening merchant involvement with distant areas.
The article emphasised that it was impossible to foresee how Canadians would respond to a CBDC and stated that more people may be interested in using it for a number of different reasons.
Even if there was greater demand than it seemed, the study found that there were "significant" barriers for customers as well as companies to extensively adopt a CBDC.
The report also made a strong case for the value of the currency, stressing that there wouldn't be any offline payment options in extreme circumstances like severe weather or extensive power cuts without cash.
This highlights the need of maintaining currency as well as the potential systemic advantages of supporting digital payment innovations that can operate offline," it said.
According to the study, this hypothetical situation shows how crucial it is for the Bank of Canada to keep issuing cash and maintaining access to it.
The central bank had said before that a CBDC would only be introduced when there is emergence in society due to devoid of currency or the broad acceptance of international CBDCs or virtual currencies like Bitcoin. The central bank was going to keep offering cash as long as there was a demand for it.