Bali's administration is taking action against tourists who use cryptocurrencies to pay for products and amenities, with the governor of the island reminding them that only Indonesia's money is accepted as payment.
During a press conference on May 28, Bali Governor Wayan Koster reportedly declared that visitors who "use crypto as a way of the transaction will be handled firmly." This was according to the government-owned media organisation Antara.
"Strict measures consist of deportation, administrative punishments, criminal charges, termination of business properties and other severe sanctions," Wayan Koster further added.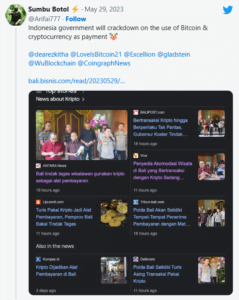 The conference was joined by Trisno Nugroho, the chief of the Bali Representative Office for Bank Indonesia, the nation's central bank, as well as the top police inspector of Bali.
Nugroho reiterated that while trading in cryptocurrencies is permitted but using them to make payments is not.
The only money that may be used to make purchases lawfully in Indonesia is the rupiah, according to Koster. A year in jail and a fine of 200 million rupiah ($13,000) are the two maximum penalties for using other currencies in Indonesia.
The declaration by the governor of Bali was made on May 26, a few days after an investigation published in Kompas, widely regarded as the nation's official newspaper.
Several Bali-based companies, such as meditation retreat, a motorcycle rental agency, and a cafe with a bitcoin theme, apparently accepted digital currency payments, according to Kompas.
There are 36 shops in Bali that take cryptocurrency, most of them are located in Ubud, a popular tourist destination, as per information gathered by Coinmap, a community-driven initiative that tries to map crypto-accepting firms.
Despite the harsh position of Indonesia's and Bali's government and, the nation is moving towards the launch of a national cryptocurrency exchange by the end of this month.
According to reports, Indonesia's Ministry of Trade will serve as a clearing house and manager for the regional Bitcoin marketplaces. The platform was initially intended to be operating by the end of 2022 but faced delays.
Read more: