Republican Congressman of the United States, Warren Davidson has issued a statement against central bank digital currencies and called on Congress to outlaw and criminalise their formation.
Congressman Davidson claimed in a tweet on 23 July that the Federal Reserve was "growing the financial counterpart of the Death Star," claiming that CBDCs turn money into a means of extortion and control.
Davidson further added, "Congress must immediately outlaw and make illegal any attempt to design, construct, develop, test, or establish a CBDC."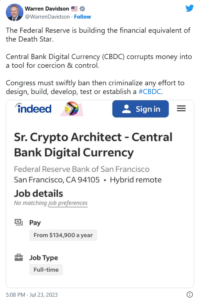 Davidson's remarks were in response to a job posting for a "senior digital currency architect" to assist on a CBDC project by the Federal Reserve Bank of San Francisco.
In response to a Twitter user's statement, Davidson claimed that money should be a reliable store of value and should not be programmed by a central authority.
According to him, peer-to-peer transactions requiring no permission should be made possible by sound money.
The Federal Reserve has been investigating the technology for a prospective digital currency, but no decisions on its issuance have been made. The prospect of a digital U.S. dollar has sparked debate in the nation and is certain to come up frequently during the 2018 presidential election.
Davidson is not the only person who worries about a possible Fed-controlled digital dollar. Florida Governor and U.S. presidential candidate Ron DeSantis declared on July 14 that, if elected, he will "nix any CBDC." A law regulating the usage of CBDCs in the state was signed by DeSantis in May.
In March, Republican Tom Emmer warned that a programmed CBDC might be "easily weaponized" as a surveillance device to "choke out politically divisive conduct." Emmer has been outspoken in his opposition to state-controlled digital currency.
In order to "stop attempts of unelected officials in Washington, DC from removing Americans of their right to financial security," Emmer presented the CBDC Anti-Surveillance State Act in February. Senator Ted Cruz of Texas, who earlier this year put out a plan to prevent the CBDC, supported the legislation.
Read more Crypto news: