On May 25, Polygon Studios' CEO, Ryan Wyatt, took to Twitter to announce that the company has decided to launch a multi-million-dollar fund to find a home for the protocols and crypto projects that have been left homeless as a result of Terra Blockchain's demise. The Terra Develop Fund is a lifeboat for Terra projects that will migrate from the Terra Blockchain to Polygon, which is sinking.
Ryan Wyatt tweeted the following: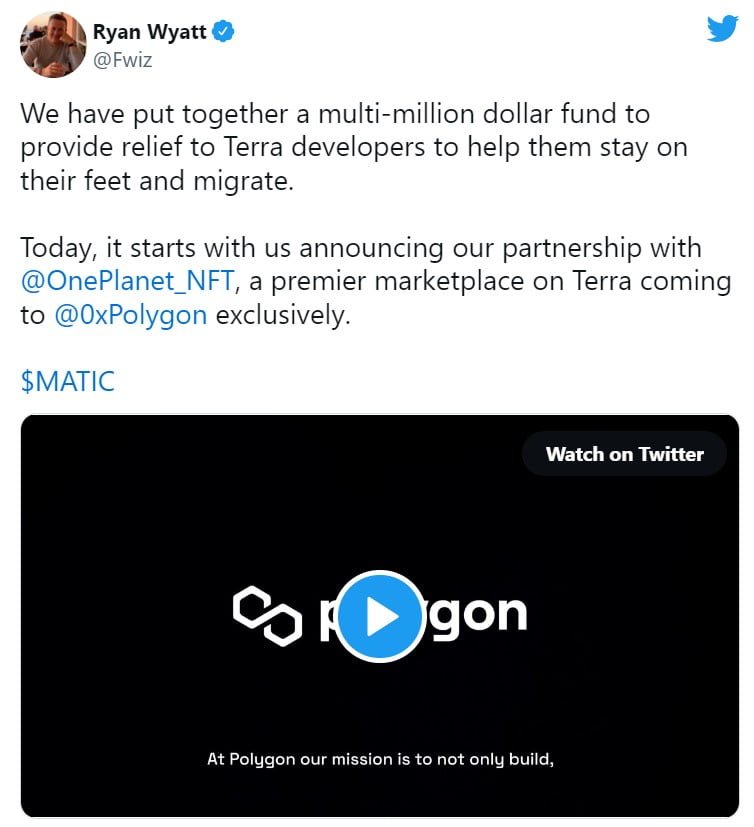 The Terra Blockchain shocked the whole blockchain ecosystem when it crashed, losing a huge portion of its peg to the dollar. Part of it was because TerraUST was an algorithmic stablecoin that wasn't supported by fiat currencies, and part of it was because Anchor promised unsustainable 20 percent stake returns. The platform panicked as soon as users began to withdraw.
It suddenly imploded, leaving numerous Terra Blockchain projects and protocols with an unknown future. Thankfully, Polygon has brought some reassurance to the situation by allowing large numbers of people to relocate to its network.
The Terra Marketplace, One Planet, was the first protocol to accept Ryan Wyatt's proposition of migration, desperate to abandon a sinking ship and still be functional. As soon as One Planet joins Polygon, it will assist other projects that want to migrate to the Polygon blockchain, with the Terra NFT projects being the most eager.
One Planet was not the only initiative to seek Polygon's assistance. Over 50 projects have contacted Polygon in the hopes of continuing to exist on the Polygon blockchain. The group is currently assessing grant and migration applications.
"Polygon has a significant advantage over other networks," Ryan said, citing some of the world's largest corporations as supporters of Ethereum's sidechain, including EA, Riot Games, Mythical Games, Unity, Activision, Amazon, and Google.
Once they get on Polygon, Terra NFTs will have access to vast resources. And, as more projects have begun to surface on Polygon, the market value of MATIC, its native token, has increased.
Read more: Tether announces launch of USDT stablecoin on Polygon to increasing trade volumes and liquidity