The two-day Proof of Talk program, "At first glance — À première vue," is scheduled to occur on June 14 and June 15 at the Musee des Art Decoratifs in Paris. The program intended to highlight the great voices in the Web3 ecosystem and showcase the work of the twelve most skilled digital artists.
The twelve artists included in this exhibition are – Benoit Challand, Skygolpe, Addie Wagenknecht, Sofia Crespo, Wonderkatzi, Auriea Harvey, Sarah Meyohas, Hermine Bourdin, Andrea Bonaceto, Rafal Rozendaal, Trevor Jones, and Andrés Reisinger.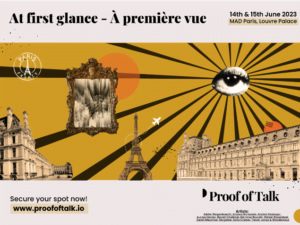 In conjunction with thought leaders, CEOs, owners, influencers, legal professionals, and regulatory agencies, the exclusive Web3 event will bring together more than 85 entrepreneurs from the sector. The goal of the event is to identify practical solutions to rebuild trust in the Web3 sector.
Proof of Talk is only open to less than 1,000 attendees. The event's other objectives include encouraging visitors to network and have meaningful conversations, as well as igniting interest in emerging digital art trends that are not only displayed but also displayed within a curatorial framework.
Additionally, while attending events where art is not the main focus, people tend to only glance quickly and infrequently at the items on display.
"At first glance — première vue" is a show that distinguishes out as a comprehensive and thought-provoking virtual art experience that requires audiovisual involvement. It is curated by Luisa Ausenda, the founder of Studio Leggero. 
This show challenges Proof of Talk participants to appreciate the works' true scope and importance, by looking deeper than what they initially perceive. 
Each piece on display in this spectacular space in the center of Paris is either incredibly technologically advanced or profoundly conceptual, exploring issues like gender, equality and speculative ideas.
"At first glance — première vue" also aims to spark important discussions and introspection. These discussions will focus on the displayed works of art as well as the blockchain, which is the primary source of inspiration for many of the featured artists.
Read more: