OpenSea, a prominent nonfungible token (NFT) marketplace, has announced its decision to phase out the Operator Filter, an on-chain tool that allows creators to blacklist NFT marketplaces that do not enforce royalties. 
The founder and CEO of OpenSea, Devin Finzer, announced the modification, which is scheduled to go into effect on August 31.
The Operator Filter was initially introduced in November 2022, hailed as a "simple code snippet" that could limit NFT sales exclusively to platforms that upheld creator fees.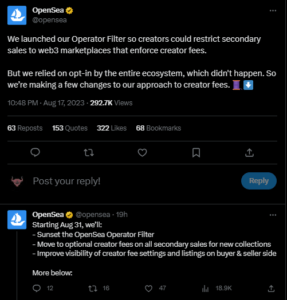 However, Finzer revealed that the tool fell short of expectations due to insufficient backing from the NFT ecosystem.
Finzer cited instances where NFT marketplaces like Blur, Dew, and LooksRare managed to bypass the Operator Filter by incorporating the Seaport Protocol. This circumvention allowed them to avoid OpenSea's blacklist and the associated creator fees. 
Moreover, creators expressed concerns about the Operator Filter infringing upon their autonomy over where their collections were sold.
"The Operator Filter's restrictions come at the expense of decentralized ownership," Finzer noted, highlighting that while creator fees are valuable for specific business models, they represent only one of many revenue avenues available to creators.
He emphasized OpenSea's commitment to nurturing new use cases for NFT technology, including digital and physical redeemables, and optimizing experiences for creators across primary and secondary platforms.
Starting August 31st, the Operator Filter will no longer restrict any marketplaces. However, existing collections employing the tool, along with those on non-Ethereum blockchains, will have their preferred fees upheld until February 29, 2024.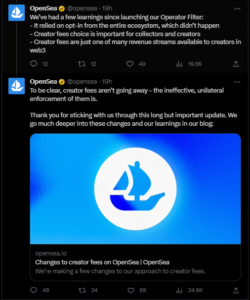 Finzer clarified that this change does not signify the elimination of creator fees; rather, it marks the end of the inefficient and unilateral enforcement approach.
This move has left some members of the NFT community disappointed, as they believe it could impact NFT artists seeking passive income. Some individuals in the community urged collectors to stand by NFT creators on platforms mandating royalties. 
In contrast, others, such as a Reddit avatar artist, suggested that OpenSea's decision might be reasonable, claiming that the business model was excessively capitalizing on hype trading.
As OpenSea navigates this transition, the NFT landscape is poised for change, prompting creators and collectors alike to reconsider the dynamics of royalties and decentralized ownership in this evolving space.