Mark Cuban, a multibillionaire businessman, and John Reed Stark, a former securities official, conflicted over who is to blame for FTX's collapse and the effects it had on creditors.
In the course of a heated discussion, Cuban asserted that if the US Securities and Exchange Commission (SEC) had established "clear legislations," nobody would have lost money as a result of the company's collapse.
Stark previously said that cryptocurrencies and stablecoins, especially digital currencies issued by central banks, don't solve any problems and that the crypto business doesn't have any regulatory control, consumer safeguards, or audits.
Cuban claimed that Japan, a country that is becoming more Web3-friendly, is an example of a legislator who has done it correctly. "Nobody in FTX Japan lost money when FTX failed," he claimed.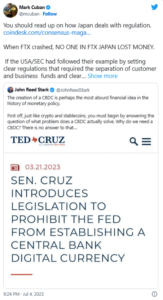 In response, cryptocurrency sceptic Stark said it "seems a bit of a stretch" to blame the failures of FTX, BlockFi, Celsius, Terra, and Voyager on the SEC; he referred to them as "dumpster fires."
Stark acknowledged that the SEC doesn't always right, but he asserted that the regulator prevented investors from losing "millions, perhaps even billions" on cryptocurrency.
According to the ex-SEC employee, even if the digital currency sector desires legal clarity, whenever new rules are proposed or established, "the crypto industry cries foul" and frequently responds by lodging a "flashy legal opposition to its adoption."
The "best way" to stop digital currencies fraud, in Cuban's opinion, is to put in place "Brightline investor security legislation." Cuban Added:
Anyone who doesn't register is automatically in violation, unable to conduct business, and subject to closure. That is how you safeguard cryptocurrency investors.
Meanwhile Stark contends that the SEC did not penalise companies like Binance, Coinbase, Beaxy, and Bittrex until several months after the regulator had made it evident that those businesses were in violation.
Stark further added, the SEC was ignored by these companies in order to continue making money without filing registration for as long as feasible.
The two have argued about how to regulate cryptocurrencies twice in the last three weeks.
Cuban criticised the SEC on June 11 for allegedly neglecting to give bitcoin startups a clear filing process.
He asserted that it is "nearly impossible to determine" what qualifies as a security because the SEC's "Framework for 'Investment Contract' Analysis of Digital Assets" paper is unclear on how cryptocurrency companies can comply, making it difficult to know what qualifies as a security.
Read more: