Lido, a DeFi platform, has put up a governance proposal and asked users to vote on it. On June 24, Lido also suggested adding a self-limit mechanism to the Ethereum used by the platform.
Determining whether the stage should balance the ETH allocated share and, if so, how, the Lido team suspended the multi-legged voting system on Friday.
Lido tweeted the following: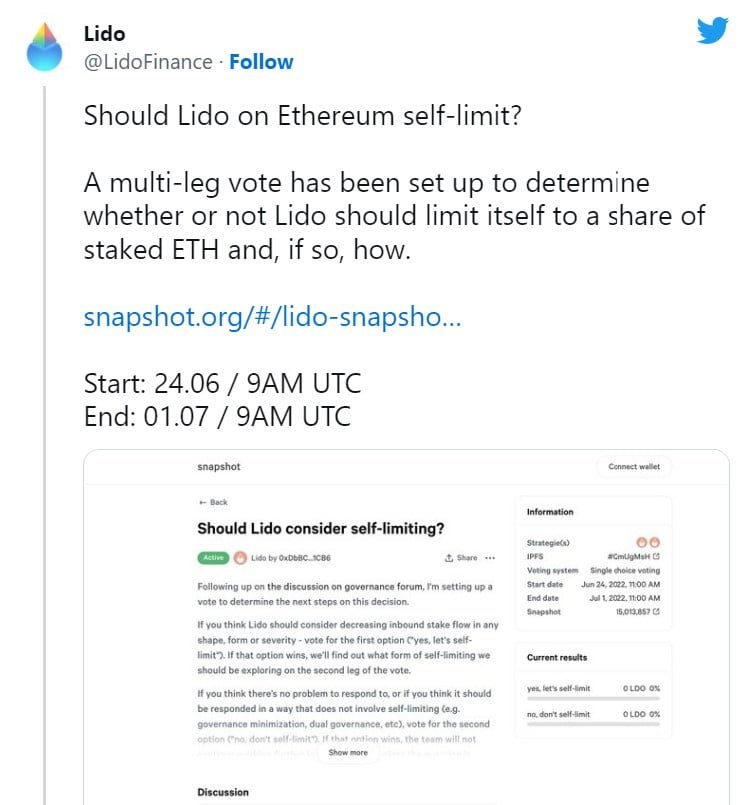 Lido's justification for limiting Ethereum staking included the claim that the blockchain's existence is threatened by the concentration of staked Ethereum in one protocol, which gives that protocol more voting power. Additionally, it would enable entrants to fill the gap in the supply.
In the case of potential hazards from Lido restricting exposure, Lido stated that there is a risk that, if it were to opt to limit its staking exposure, a centralised exchange-led KYC standard may dominate the market. Due to this, there can be a liquidity bottleneck if alternative liquid staking providers are unable to scale quickly enough to meet demand.
Read more: MixBytes teams up with Curve Finance to offer new Lido pools to Moonbeam