The rising tension between Ukraine and Russia has caught the eyeballs of millions of people all over the world in February. Ethereum co-founder and CEO, Vitalik Buterin, tweeted on 11 February in Russian to express his discomfort with Russia's plan to invade Ukraine. He pleaded with Putin to de-escalate the situation of Russia's own making.
He expressed his thoughts via twitter stating that an attack on Ukraine will only bring harm to Russia, Ukraine and humanity. Whether the situation will return to a peaceful path or there will be a war can now be decided not by Zelensky, not by NATO, but by Russian President Vladimir Putin.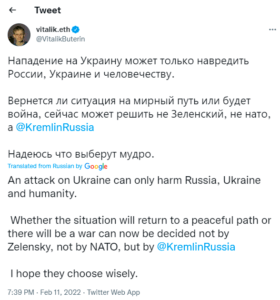 Following the recognition of two separatist areas in eastern Ukraine earlier this week, Russian President Vladimir Putin stated on Wednesday that Russia will execute a "special military operation" in Ukraine, a thinly disguised allusion to an invasion.
Buterin expressed his displeasure with Putin's decision to forego the chance of a diplomatic resolution to the conflict with Ukraine and instead go to war on Twitter. He believes it to be a heinous crime against the people of Ukraine and Russia.