Elon Musk, the CEO of Tesla and Twitter, stated during an online meeting organised by the Wall Street Journal, "I'm not advising anybody to buy cryptocurrency or bet the farm on Dogecoin."
Musk also acknowledged his continued support for Dogecoin, declaring: "Dogecoin is my favourite digital currencies because it has the best humor and has dogs." He is not, yet, advocating that anybody should stake their whole financial future on cryptocurrency or Dogecoin.
Elon Musk gave shareholders an exceptional piece of advice at the Wall Street Journal CEO Council Summit in London: don't put all of your money in cryptocurrencies or Dogecoin. In some ways, Elon Musk's advice to Bitcoin enthusiasts and Dogecoin supporter's contrasts with his current views.
Elon Musk made hints that Twitter would accept Dogecoin payments and perhaps take DOGE as a purchase for the Twitter Blue membership. Since its inception as a joke, Dogecoin has become one of the best 10 digital currencies with a market valuation of $10 billion.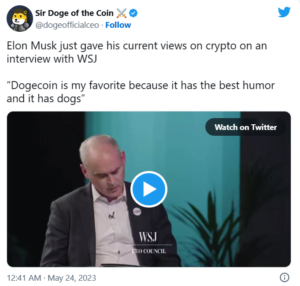 Recently, Elon even replaced the classic Twitter "blue bird" emblem with the Dogecoin logo to express his love for the meme currency. 
Nevertheless, Musk's significant backing of Dogecoin led to a $258 billion conspiracy complaint blaming him of operating a pyramid scheme. He requested the court to drop the case in April.
Twitter present CEO Musk, named Linda Yaccarino as the forthcoming CEO of Twitter in May; it is thought that she also supports Shiba Inu and Dogecoin.
In light of the market's unpredictability, DOGE is still trading above the $0.70 barrier, but there is a chance that it might drop below the level of support. Additionally, the trading volume has reduced, indicating that traders are becoming less interested.
Following Musk's advice not to buy Dogecoin, the value of DOGE dropped by 3% and is now trading at $0.070. The 24-hour low and high are, respectively. At the time of writing, the price of Bitcoin decreased by more than 3.5%; it is presently trading at $26,239.