The decentralised finance (DeFi) protocol Aave has introduced the algorithmic US dollar-pegged stablecoin GHO on the Ethereum mainnet, with a total supply of $2.19 million GHO.
In a blog post on July 16, Aave revealed the release of the new stablecoin, referring to GHO as a "decentralised, over-collateralized" asset. The stablecoin is supported by a "multitude" of digital assets, comprising the native tokens of Ethereum and Aave.
Following a community governance vote in which nearly all 424 participating addresses voted in favour of the new stablecoin, GHO was released on mainnet.
As per the Aave, the assets underlying GHO are visible and can be verified by on-chain data, unlike centralised stablecoins like Tether's USDT, which has come under scrutiny for a clear lack of transparency surrounding its reserves.
All transactions are carried out via self-executing smart contracts, and Aave stated that all data pertaining to GHO transactions is accessible and auditable both from the blockchain and through a variety of user interfaces.
Moreover, Aave said that GHO's earnings will help to reinforce its DAO treasury, with ownership of AAVE and stkAAVE tokens being in charge of governance.
The Aave Protocol V3 Ethereum market allows anybody to mint GHO using the assets they give as collateral, guaranteeing that GHO is overcollateralized by a large number of assets.
With the introduction of GHO, the number of DeFi-native algorithmic stablecoins continues to expand. DeFi protocol Curve introduced its principal algorithmic stablecoin, crvUSD, on May 4.
As per data from DefiLlama, MakerDAO's Ethereum-based stablecoin DAI, which has a $4.28 billion market valuation, is the biggest algorithmic stablecoin currently in use.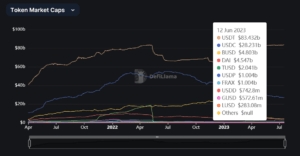 However, centralised issuers like Tether and Circle continue to control the entire stablecoin industry.
Currently, USDT from Tether and USD Coin from Circle make up 87% of the total supply of stablecoins linked to the US dollar that are in circulation.
According to price information from CoinMarketCap, GHO dropped as low as $0.9814 on July 16 and is currently trading just slightly below the anticipated $1 peg at $0.9927.