Hotbit, a cryptocurrency exchange, made an announcement that it would cease operations on May 22. The digital exchange advised its users to withdraw money by June 21 at 4:00 am UTC.
The exchange stated in a statement that since an inquiry into a former employee began in August 2022, its operational circumstances had gotten worse. The exchange claims that the investigation compelled it to temporarily halt operations for many weeks.
Additionally, Hotbit blamed a number of events that happened in the cryptocurrency industry for its collapse. 
The exchange attributed it's declining cash flow to the FTX collapse and the financial issues that led to the USD Coin de-pegging incident. According to Hotbit, the incidents caused a steady outflow of money from centralised exchanges.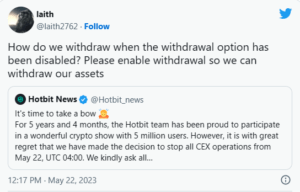 The Hotbit team also thinks that centralised exchanges are "extremely unlikely to fulfil long-term trends" and are "increasingly cumbersome." The exchange said that the only alternatives were to adopt legislation or to become more decentralised.
The crypto exchange also cited frequent hacks and "project defects by fraudulent users" as contributing factors to its demise.
Numerous community members stated that they were not able to take out their money from the exchange as soon as the notice appeared.
Apart from this, someone also cautioned forum members against malicious URLs that appear to be the official Google Hotbit exchange.
While Hotbit is making its exit, other exchanges are continuing to operate, some of which have started initiatives to address the problems in the cryptocurrency business.
In recent times, the digital currency exchange Coinbase announced a drive to "update the system." It went a step further with OKX, which seeks to "rewrite the system" from scratch.