CertiK, a leading cybersecurity organisation, presented a flowchart depicting the most successful hacker in DeFi history's tactics. It appears that he/she will continue to try to launder the riches.
The plundering of the Ronin Network (RON) hacker is separated into three clusters, according to the @CertiKAlert account, which CertiK uses for fast notifications.
Certik tweeted the following diagram explaining the hack: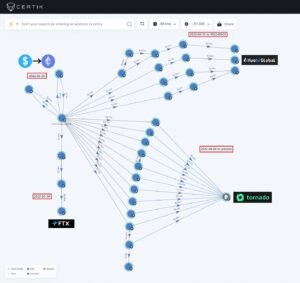 The first group has already been transmitted to several centralised exchanges, totaling $20.7 million in equivalent. Hackers are attempting to sell their stolen goods on FTX and Huobi, two major CEXs.
The equivalent of nearly $90 million was then moved to Tornado Cash, the most popular mixer service for obscuring the history of crypto currencies. The majority of cryptocurrency acquired by a hacker is still held on the hacker's account: As of today, April 14, 2022, $459 million in equivalent is idle.
The largest hacker attack in the history of the DeFi sector was on Axie Infinity's sidechain, Ronin Network (RON).
The total amount of money lost exceeded $625 million. Sky Mavis, the firm behind Axie Infinity (AXS) and its sidechain Ronin Network (RON), has announced an unprecedented $1 million bug bounty effort to prevent this from happening again.
Read more: Ronin suffers an exploit, damaging $600 million worth of crypto