Changpeng Zhao, CEO of Binance, argues that although evidence indicates that crypto assets have been leaving centralised exchanges at an increased rate over the past week, things may not be as bad as they seem.
Popular analytics protocols like Nansen and DefiLlama have all detected a spike in Binance exchange outflows over the last seven days following news of the Securities and Exchange Commission's complaint against the company.
Nansen claims that during the last seven days, Binance has had a total outflow of $2.36 billion, together with a $123.7 million outflow from Binance US.
DefiLlama revealed even higher outflows from Binance of $3.35 billion, while data from Glassnode reveals the exchange's balance fell by 5.7%, or roughly $1 billion, over the previous seven days.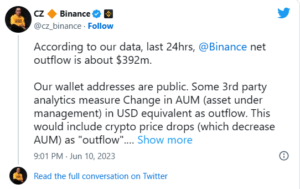 CZ claimed in a tweet on June 10 that certain exchange outflow data may be biassed because some third-party analytics classify changes in assets under management as "outflow," which would involve periods when crypto prices fall.
Instead, CZ stated that the company lost only $392 million during the course of the previous 24 hours on June 9. This is a significant decrease from the $7 billion in one-day outflow that happened last year in November, near the time of FTX's collapse.
CZ went on to say that significant inflows and outflows are entirely typical during periods of volatility. CZ further said, "Even some measure only outflows and not inflows. Many arbitrage traders move a lot of money between exchanges on days like today when there is a rapid price shift, typically enormously more than on typical days."
As per CoinGecko, the overall market valuation of cryptocurrencies has decreased by 7%, or over $80 billion, after the SEC filed charges and litigations against Binance and Coinbase on June 5 and 6.
Upon learning of the dual lawsuits against the centralised exchanges, decentralized finance volumes had increased by almost 400%.
Read more: