Binance CEO, Changpeng Zhao says the company has no plans to acquire any financial firms, amidst mounting concerns over debanking of cryptocurrency companies, invoving Binance's own workings in Australia.
The failure of many American banks this year has raised worries that the number of institutions that support cryptocurrencies is declining. Silicon Valley Bank, Signature Bank and Silvergate, formerly important banking partners, have all fallen this year.
In the meantime, Binance Australia declared that it would stop offering transactions in Australian dollars after its payment operator opted to stop supporting the exchange. The exchange has not yet found a substitute provider.
On May 29 Bankless Podcast, CZ addressed a query posed by well-known Twitter user DegenSpartan, who requested humorously: "Can you please, purchase a bank and make it crypto-friendly?"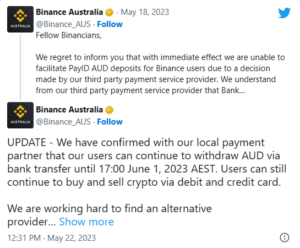 "Well, we did look at that," CZ responded before outlining the drawbacks of that line of explanation:
"The concept is considerably simpler than the reality. You purchase one bank, which is limited to operation in one nation, and you are still required to deal with the nation's banking authorities. It doesn't imply that you can acquire a bank and carry out your personal agenda."
CZ further said, "If you work with cryptocurrency despite what the banking officials have said, they may revoke your licence. Therefore, purchasing a bank won't stop authorities from telling you "no, you cannot use cryptocurrency."
Further exploring the issue, CZ stated that even if Binance just purchased one bank, it would still require "equivalent banking institutions throughout the world, and the majority of the related banks are in the U.S.
Then, he further continued, "the related banks will inform your bank that we will no longer be allowing your worldwide transactions if you touch cryptocurrency."
CZ noted that the price is another problem and that Binance would hardly turn money from acquiring a bank or a chain of banks.
Banks are not inexpensive. Banks cost a lot of money for very little corporate profit. The amount of cash necessary is fairly large, and getting regulatory permission for purchasing a bank is just as difficult as establishing a new bank, Binance CEO said.
Numerous banks have weak business plans. They are extremely dangerous industries. They borrow money from customers, try to recoup it through loans, and if they are unable to do so, they file for insolvency. In many nations, the government will intervene to save them, but I prefer not to manage those kinds of enterprises.
But in the end, CZ said that Binance might invest a little amount in banks in an effort to "hopefully encourage them to be more crypto-friendly."