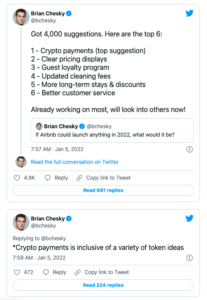 This year, Airbnb, the popular accommodation-booking company, may start taking cryptocurrency payments. On Twitter, Airbnb CEO Brian Chesky presented a list of consumer wants, with permitting crypto payments coming in first. Chesky stated in his blog post that his organization is already working on most of the user suggestions while vowing to investigate others. A number of consumer businesses have recently begun accepting crypto payments for certain goods and services. The majority of these pro-crypto brands are headquartered in the United States.
In a Twitter conversation, Chesky stated that if Airbnb does start accepting crypto payments, the firm will be open to a number of token concepts.
Chesky's tweet received thousands of likes and hundreds of retweets. Airbnb should start taking Bitcoin, Shiba Inu, and Ethereum, according to the comments on the page.
This isn't the first time Chesky has realized that Airbnb consumers are yearning for a cryptocurrency payment option.